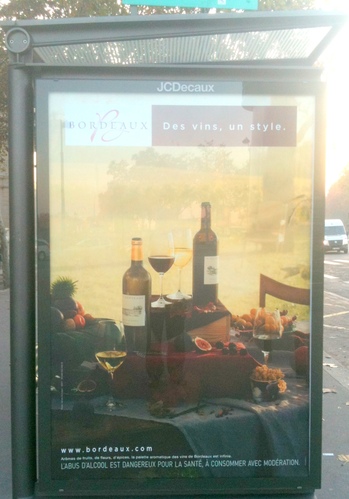 PARIS--You may recall that our trip to southwestern France last year featured a number of ideas to promote the wines of Bordeaux to a wider public. Not the five famous Grands Crus Classés (Marguax, Latour, Mouton, Lafite, Haut Brion), but ten thousand or so "lesser" châteaux within the strictly defined boundaries of the Bordeaux appellation.
We're going to take the liberty of quoting our dispatch dated October 12th, 2010:
"There's a marketing plan in the works for Bordeaux, a ten-year plan not for the two or three dozen famous names but for the other ten thousand. The campaign will target casual drinkers who don't care a drop about terroir; it will capitalize on the elegance suggested by the term "château." There will be music, there will be wine, there will be romance.

The tagline: "And the bottle on the table is Bordeaux."

You read it here first."
The only hitch is the headline, which reads "Bordeaux: Des Vins, Un Style." And it translates as badly as it reads in French: "Some Wines, One Style." But the art direction and taglines seem on target: "Aromas of fruit, flowers and spices: the aromatic palette of Bordeaux wines is infinite." Figs, berries, kiwis, licorice, dried leaves, not bad. Still, I liked my headline better.